 A
Holistically Modern Approach
to Integrative
Health & Wellbeing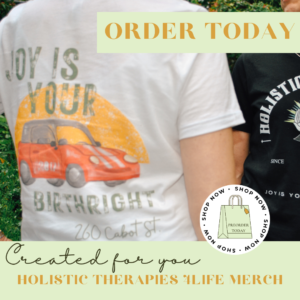 ✨PRE-ORDER YOUR NEW FAVORITE SUMMER TEE✨
Holistic Therapies 4Life officially has merch for our amazing clients!
We have men's, women's, & youth sizes for the whole family to rock! Email us

[email protected]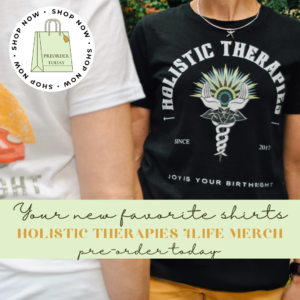 YOU ARE INVITED
YOU ARE WELCOME
YOU ARE LOVED
Joy is Your Birthright
We Can Teach You How
A Peak Inside
Transformational Experience I
This one-month introductory transformational package will allow you to explore what a full transformation could be like! This includes:
One Sauna Session (20 mins)
Finding Life's Balance
Transformational Experience II
This person is ready to begin exploring the changes they may need to make in their lives to reach their wellness goals. This 3-month OR 6-month package includes:
Weekly (60 mins) Sessions
Weekly Sauna Use (30 mins)
The Joyful Life
Transformational Experience III
This person says, "I am all in!" and is ready to fully commit themselves to the process of deep transformation to achieve joy and life balance! This 3-month OR 6-month package includes:
Weekly (75 mins) Sessions
Weekly Sauna Use (30 mins)
One Guided Meditation Recording Per Month
To Learn More, Including Transformational Experience Details, and to Book, Click Here
Weekly Yoga Classes Now Available
Holistic Occupational Therapy
Combining the licensed medical practice of Occupational Therapy with holistic approaches for healing the physical, emotional, and spiritual body. Integrated specialized training in Yoga therapy, Craniosacral Therapy, and Ayurveda during treatment sessions, Holistic Occupational Therapy enable clients to rediscover joy, finding life purpose, and freedom from physical and emotional pain.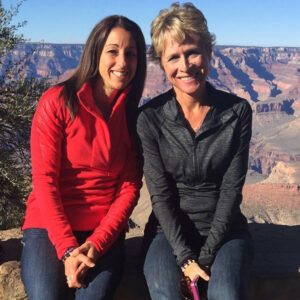 HT4L "Joyful Living Group"
Welcome to HT4L Joyful Living. We felt called to create this group to bring community together to re-discover your passion for living and to support one another on our paths to PURE JOY... We will be going Live in this group every Thursday 5-5:30pm (EST). What will you get out of this group?
Tips and Ideas to raise your vibration
Identify what is blocking your way to joy
Live videos 1x per week
Affirmations
Sharing positive and uplifting personal anecdotes
Guest speakers
Resources and research on current topics of health & well being and so much more!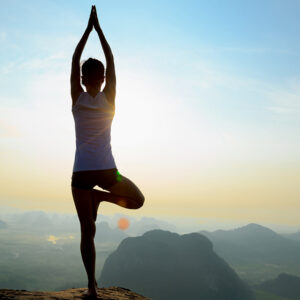 SHINE: Woman & Wellness
A Radical New Perspective
This is a group for women or anyone who identifies as a woman who wants to redefine what wellness means.
What if wellness is when we are in complete alignment with who we are so that our inner light can shine through? Remember that spark we came into this world with that is uniquely us? This is who we were before we were told how we should feel, think, behave, dress and conform. She is in there...It may take some excavation, but you can find her again.
Let's Re-Define to Shine!
OTR/L, C-IAYT, AWC
---
MSN, NP, RYT
---
By Appointment Only
---
260 Cabot Street (lower level)
Beverly, MA 01915
Health & Wellbeing Services