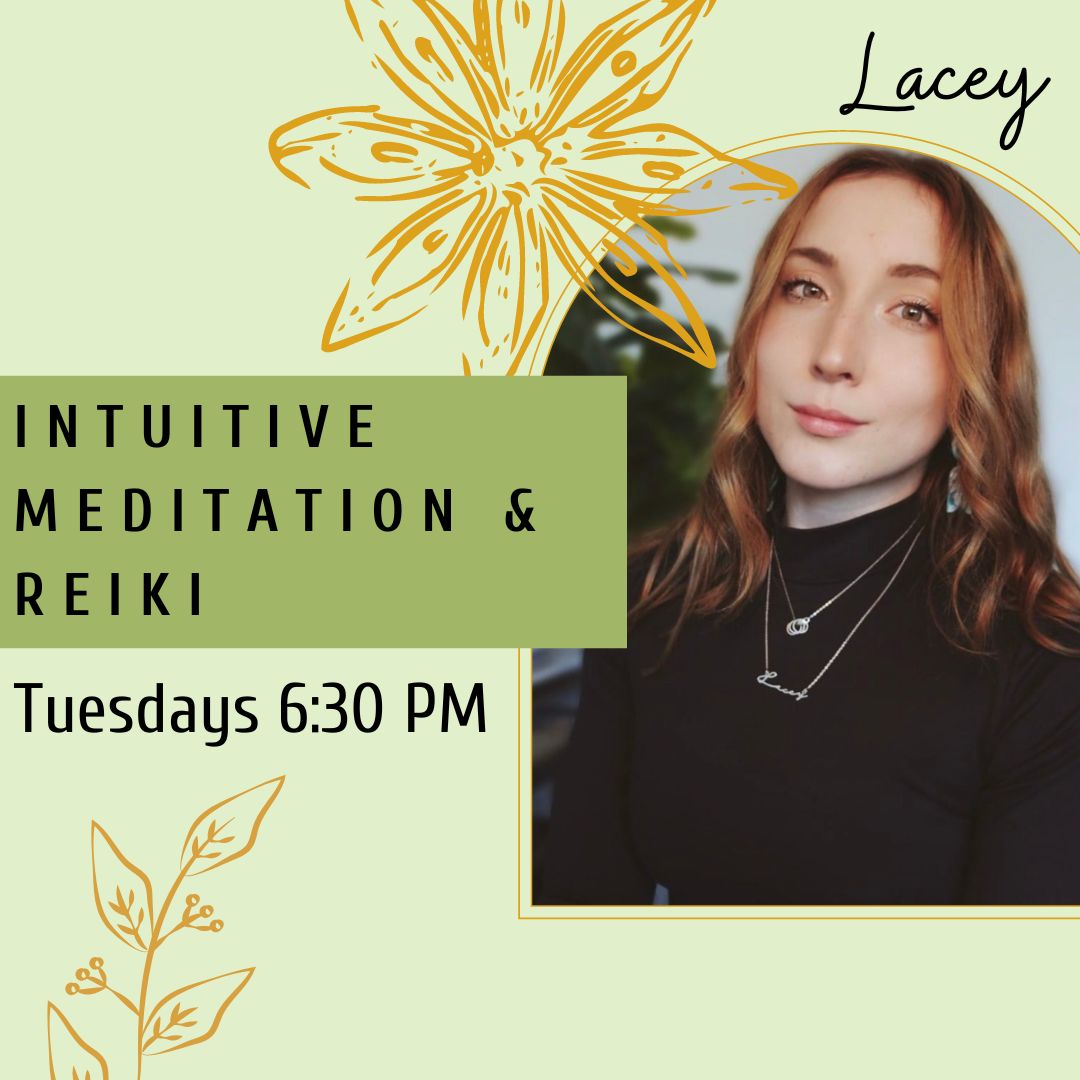 Intuitive Meditation & Reiki
Instructor: Lacey Raymond 
Title: Intuitive Meditation & Reiki
Day & Time: Tuesdays 6:30 PM
Description: Experience the extraordinary fusion of meditation and reiki in our Intuitive Meditation and Reiki class. The harmonious blend of these transformative modalities amplifies their effects, guiding you toward revitalization, invigoration, and balance. 
With a background in neuropsychology, Lacey blends evidence-based techniques with intuitive skill sets to deliver unique meditation classes. Lacey is an intuitive psychic medium, and channels each meditation in real time to deliver healing, wisdom, and inner guidance. This means no two classes will ever be the same! You can expect a variety of meditative techniques, including mindfulness, visualization, and body scanning to be integrated into this class. She is also a Reiki master and utilizes this healing art to deepen the individual meditation experience and promote healing. 
No matter your experience level, our Intuitive Meditation and Reiki class welcomes all seekers of peace and healing. Whether you're a curious beginner or a seasoned practitioner, our supportive and nurturing class environment is the perfect space to explore and grow on your spiritual path.
Bio: With a background in neuropsychology, Lacey has five years of experience working clinically with diverse patient populations. She is also a Reiki Master, intuitive psychic-medium, and seasoned meditation instructor with over seven years of professional experience. She draws upon evidence-based practice and intuitive skill sets to create unique yet effective classes that heal the nervous system. Eager to expand upon her knowledge and skill base, Lacey is currently pursuing a Master of Science in Applied Nutrition with a dietetics focus. In becoming a registered dietitian, she hopes to use both nutritional interventions, meditation, and alternative healing modalities to treat and prevent neuropsychiatric illnesses.